Mark Stephen Levy, also popular as Mark Levy and a tourist at large, has been in the buzz for a while after the publication of his second successful book, American Maharajah. The book is themed on an Indian mythological tale of a prince in Rajasthan's village who came back from the dead – a reincarnation. Today, we are publishing the interview in which Amit Mishra, from The Indian Authors, talks to Mark Levy about his second book, the first book, his writing and some other things. Do read the interview below: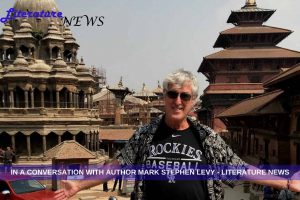 Amit Mishra: Mark, first congratulations from the team at Indian Book Critics! Our team has read your book and that's wonderful! How did you conceptualise your book? Do tell this at the outset of this conversation!
Mark Stephen Levy: I first came up with the idea in 2011 in India when my host at a local university near Ranchi pointed out the car window as we were driving by that and old Maharajah will pass soon and has no heirs to pass on the title and palace. That was the idea! But it took five more years to start writing it and another nine months to complete it
Amit Mishra: It might be an interesting question only if you agree to answer it, Mark. Which of the characters in the novel is the closest to you? Is it Ravi? Aishani? Or someone else? We have studied the leading characters and found them to be alive and animated. And, does the character of Sushil emerge from your own Indian experiences as a tourist?
Mark Stephen Levy: I think there's a lot of Ravi in me. He's a dreamer but never had the chance to dream until he went to India the first time, and of course, being there changed his life, as it did me. As for Sushil, I met a real Sushil in Ladakh, as where the Sushil character appears th3e first time. The real Sushil was a happy go lucky guy like the character in the book.
Amit Mishra: How do you see the current fiction writing across the world? In your country, in India, in the UK and so on. What's your thought on the contemporary literature, Mark? And where do you find your contribution to it?
Mark Stephen Levy: I know writing in India and most elsewhere has become the thing to do. What a dream to creatively write with the chance to be a best seller. Of course, there are few best sellers in fiction with the plethora of books out there. I know people still read but also many people are distracted by social media taking leisure time away from reading.
Amit Mishra:  Tell our readers a little more about your writing. What is the motivation of your creativity? What moves you to write? Is it sudden or impulsive or it is a deliberate and calm thinking process?
Mark Stephen Levy: My motivation to write is twofold: One, to get all these travel stories out of my head and on to paper. And two, allow people who read my books to go places they've never been and be inspired by what they read to set out on their own adventures, and even write about it.
To flesh out the ARC of the story takes deep thinking before I even write one sentence. Then when I finish that piece, I set my lappy aside and go think some more.
Amit Mishra: You have recently been to India and also Nepal. In India, readers have shown their affection for the book and American Maharajah has received a generally favourable response. What was the scenario in Nepal when you had your reading sessions? Does the tale of reincarnation entice them?
Mark Stephen Levy: I already had a pretty good following and friends in Nepal and had a book launch in Kathmandu with a good turn out and a lot of fun. I think reincarnation is an interesting topic and of course, many Hindu's in Nepal.
Amit Mishra: American Maharajah, some readers say, is a simple but mature novel. Did you design it to be this way? Didn't you think about adding some romantic flavour or exciting thrill to it?
Mark Stephen Levy: Well, there is a romantic essence on the back half of the novel but doesn't come to fruition till the end. And the way I write is simple, and not designed that way. It's just how I write. I suppose if I read more I might write more sophisticated, but this is how I flow!
Amit Mishra: Overland and now American Maharajah… what will your next writing adventure be? Will it again be Indian?
Mark Stephen Levy: Yes, on my trip recently concluded in March to India and Nepal, I came up with an amazing idea for the third book and just now starting to write it. Of course, the story is set in India, and this time Nepal and Bhutan.
Amit Mishra: And Mark, at last, what's your message to the readers in India as an author? And, also, what's your message for the Indians as someone who frequently lands in India?
Mark Stephen Levy: To all those that want to write, be it poetry, short stories, blog posts or whatever, just write it. Writing is a cathartic experience, and you'll feel so good every time you write. It gives you a sense of purpose.
My message to India: I will see you again!